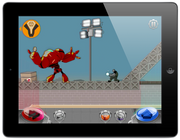 Atomic Robo: Violent Science is a mobile game produced by Second Fiction, the now-defunct relative of indie animation studio theFictory. It is currently available for iOS and Windows 8 devices with plans for an Android release. The game is loosely based on the Atomic Robo: Last Stop animated short film featuring the film's settings and characters.
Gameplay
Atomic Robo: Violent Science is a retro-styled mobile platformer.  The player can run, jump, bash through obstacles, activate triggers and play 15+ levels for different challenges in different ways.  Throughout the game the player has an opportunity to improve Robo's tech as well as enlist and improve the abilities of Action Scientist allies.  While navigating through the level, Atomic Robo is being chased by Baron Von Helsingard. If the player is caught by Helsingard, the level is lost.
Links
Community content is available under
CC-BY-SA
unless otherwise noted.