Jurassic World: Dominion Dominates Fandom Wikis - The Loop
Play Sound
Baron Heinrich von Helsingard
Baron Heinrich von Helsingard
Characteristics
Status
Origin
History

Born into tremendous wealth as a member of Austrian nobility, Helsingard was also gifted an unparalleled, some would say inhuman genius.
Helsingard had crossed swords, directly or indirectly, with every science agent of the late 19th and early 20th centuries. His schemes were intricate, intractable, and global. For instance: he appears to have been a major force in secretly ushering the European powers toward The Great War to sell Science Weapons to both sides at tremendous personal profit. By the signing of Treaty of Versailles, it is estimated that Helsingard was the richest and most powerful individual in the history of the world -- made all the more powerful that his wealth and worldwide criminal empire were unknown to all but a few.
By 1938 Helsingard was well into his 80s and obsessed with overcoming death. He used the early Nazi movement as a front to work toward a "vril integration" procedure which he believed would grant him immortality and the power to alter reality through thought alone. Atomic Robo was sent by the US military to arrest Helsingard for his long list of atrocities against mankind. Robo ended up killing Helsingard - or so he thought. Helsingard's brain has survived throughout the years in various robot bodies. Although Atomic Robo has thwarted his plans time and again, Helsingard continues to plague Robo and his Action Scientists.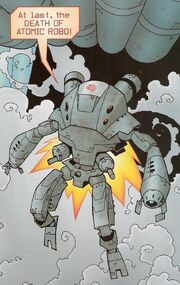 Powers and Abilities
Powers
Superior intellect

Abilities
Virtual immortality (through many cloned brains)

Strength level
Unknown.

Weaknesses
Bullets, Atomic Robo

Paraphernalia
Equipment: None known.
Transportation: None known.
Weapons: Various robotic inventions

Notes
Trivia
See Also
Links and References